Josey Wallace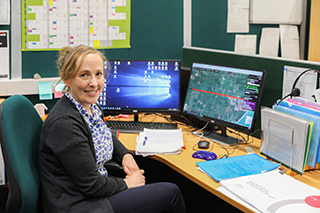 Josey works in Roading as a Network Engineer. "I'm from Ireland and have been living here in New Zealand for 12 years. A job took me to Oamaru a decade ago and I quickly fell in love with the region. We have beautiful beaches, mountains and lakes right on our doorstep, just a stone's throw from Dunedin and able to travel to Central, the Catlins and Canterbury on our weekends. The hardest decision is where to go, although it can be difficult to muster the motivation to leave Kakanui on a beautiful weekend. The most exciting thing about working on roads is that they are the arteries of our society. They create opportunities for new experiences, trade and wealth. Working in the roading section, I have come to appreciate the amount of effort that goes on in the background to make sure our district's roads are safe and accessible. My role is varied and I work on everything from Road Resurfacing, Street lighting and Footpaths to new projects to widen and strengthen our roads. We are spoilt in this district, being able to jump in our cars and explore the mountains, remote lakes and meandering coastal loops. Whatever our favourite activity, it usually starts with packing up the car and hitting the road."
Joshua Rendell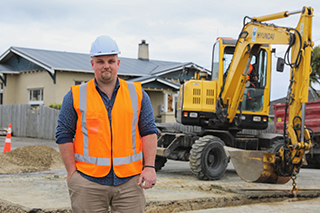 Why Waitaki? Leaving Moruya on the south coast of Australia where he worked for the Eurobodalla council for 11 years, Joshua and 'the wife' wanted to move to New Zealand for the kiwi lifestyle, relaxed and friendly, and the incredible landscape. "It's been a pleasant change and a new challenge," he says. Originally from a construction background, and a trained carpenter, Joshua is completing an engineering degree; he used to build bridges before he took on the Water and Civil Engineering degree he spends all his home time finishing off. He takes pleasure in knowing that local government work contributes to the entire community – "the work you do impacts a lot of people, they just don't know it." His best work is buried underground. Not in a mafia way.
Mary-Ann Beets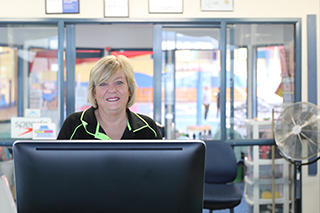 Born in Johannesburg South Africa, Mary-Ann lived for a long time on the 'very sharky' east coast, in Durban. Moving to New Zealand and buying in Auckland becoming impossible, for some unknown reason she came to Oamaru for five days and bought a house. "I don't think I chose Oamaru, I think Oamaru chose me," she says. A town where home ownership is still attainable, "being able to buy a home of one's own is very empowering," she says. At first a casual position which turned into a full time one at the Aquatic Centre bookends a life spent in, on or by the water. A swim teacher for 25 years, Mary-Ann had her own swim school in South Africa and has been involved in swimming competitions at the national and international level. Her vision, as she explains it, is "to make it a place people want to come to, a place where they feel safe and enjoy themselves."
Martin Velez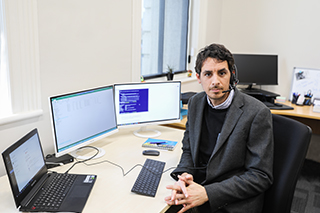 Works in the Council's IT department assisting with monitoring, maintaining, supporting and optimising the Council network, server and cloud infrastructure. In addition, he provides support to the IT Team to resolve help desk issues when they arise. He has been in New Zealand for one year and one month now. The backpacker thing wearing thin, he had been looking to stay in one place. He came here for the lifestyle and as a keen climber the Whitestone Geopark's attractions are not lost on him - but the truth is he mostly came here for certainty. In Argentina, political and economic upheavals make the seismic activity that shaped the Waitaki look mild. "When I arrived here, our money was at 13 Peso per $NZD, in 12 months it is 25 which is an increase of 100% - how can you plan for anything?! Here you can focus on one thing" – some of the things he is focusing on are soccer, photography and he is taking piano lessons as well; learning French and practising his English, something he didn't get much chance to do at home. How many languages does he speak? "Just Spanish." He's funny too.
Caitlin McEvoy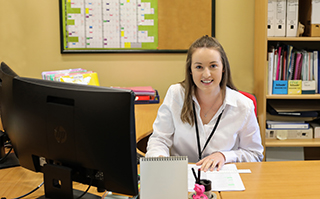 Invercargill born and bred, Caitlin started off studying PE at Otago University but ended up with a Bachelor of Science majoring in Psychology. "I like using it in a practical way," she says, "particularly in HR (her first role upon graduation) which is dealing with problems, setting policies, it's all about what people need and want." Taking up the role of EA to the Assets Group Manager at Waitaki District Council, her job involves dealing with a range of people, not to mention organizing someone's life. Is she organized herself? "I'm always running late for things! But I am a big routine person." Caitlin thinks the weather here is better, that Oamaru is small but perfectly formed, boutique-y with enough cafes for this coffee fiend. It's got everything covered."
Fanua Pereira-Ueleni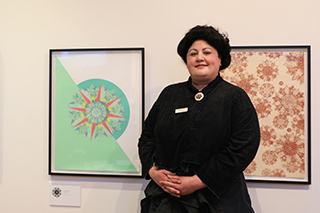 "I was working in the boning room in the freezing works before starting at the council as a librarian," says Fanua. She also spends some of her time at the Forrester Gallery which is where we found her. Refuting allegations that librarians are nosey she says, "I think librarians are curious, I certainly like to know what's going on in the world and Oamaru." Opinionated, unconventional and deliciously flamboyant, Fanua loves meeting interesting people, "but specifically I'm looking for a millionaire husband. He'd need to be over six foot. I'm very tall, but I think you have to own it. I was quite possibly an Amazonian princess in a past life."